Асоциацията на българските черноморски общини
The Union of the Bulgarian Black Sea Local Authorities (UBBSLA) is an independent non-governmental, voluntary, self-governing and non-profit organization established as a juridical person in 1992 by 7 municipalities. The Union has been re-registered in accordance with the Law on juridical non-for profit persons in 2002, as organization, acting to public benefit for an indefinite period of...
Българска стопанска камара
"Българска стопанска камара - съюз на българския бизнес" е сдружение с нестопанска цел, неправителствена организация на българския бизнес, учредена на 25 април 1980 г.
The "Business without borders"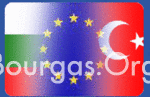 The "Business without borders" project is being implemented by the Chamber of Commerce and Industry (CCI – Burgas) under the PHARE Programme – Trans-border cooperation (CBC). This programme assists the border areas of the countries, candidates for European Union (EU) membership:
in overcoming the economic and social weaknesses, caused by their peripheral location of...
Търговско индустриална камара /ТИК/ гр. Бургас

Търговско индустриална камара /ТИК/ гр. Бургас е неправителствена организация, юридическо лице със седалище в гр. Бургас. В нея членуват на доброволен принцип частни, смесени фирми и сдружения, кооперации, банки,...