Dancing House by Friends Dance "
Association Give Grandma, light organized in Sofia bldv. Stamboliyski "№ 51 house dance - dance by Friends

The main idea of the organizers is to enable everyone without age restrictions, preparation, to touch and explore the true nature of dance art.
Folk / Song of people from Bulgaria
Latin Dance / Jive, samba, cha-cha-cha / ...
belidens - oriental dance...
Клуб по български народни танци ЧАНОВЕ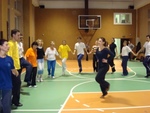 Oт 27.04.2009 година във физкултурния салон на ОУ "Св. Княз Борис I" стартира група за начинаещи за всички любители и почитатели на българските народни танци от град Бургас, желаещи да се обучават и танцуват в нашия клуб....
Клуб по спортни танци Бургас 75

Клуб по спортни танци "Бургас 75" е създаден през 1975 год., но голяма част от по-старите клубове по танци у нас биха могли да завидят на неговата богата спортна история.
За годините на неговото съществуване до днес...
Dance Academy Bourgas
Фондация "Танцова академия Бургас" е основана в края на 2006 г. и е приемник на първото по рода си в страната Танцово училище "Михов", създадено през 1991 г. от многократните шампиони на България по стандартни и...
ЦВЕТЕ - Танцово студио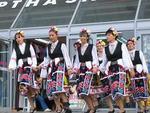 Танцово студио "Цвете" е създадено през 2006 год. от ентусиазирани учителки, любителки на фолклора. Изучавайки и представяйки българското хоро, групата допринася за запазване на българския дух и традиция живи.
School for national dances
ART DANCE- an association for bulgarian national dances and customs is begining a new group for beginners. Lessons will take place in the musician corpus of ,,Dimcho Debelianov`` comprehensive school on Wednesday at 18:30 p.m. and on Sunday at 16:00 p. m.
For registrations and extra information call to 0889579596- Nadia Ivanova